Published on 04/09/17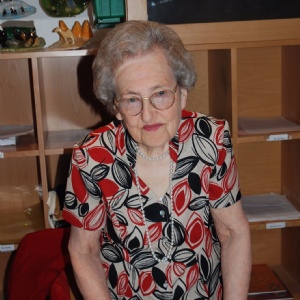 It is with sadness that we announce the passing of Geraldine Owst (at school 1938-1947).
Geraldine was an active and highly valued OPG member, former committee member, and alumna, and her group (Group 23) has had over 60 years' connection with the school. Geraldine was interviewed for the OPG Newsletter back in 2010. She attended numerous reunions, helping to organise and co-ordinate, and was a regular visitor at our West Road music concerts.
'I was at school in 1938-47 - being involved with the OPG committee gives me a fascinating view of how the school has changed over the years, especially in terms of buildings and facilities. 'My days at school sewed the seeds of two great passions that have stayed with me throughout my life: music and reading. I remember helping Miss Hall in the library with my friend Doreen Loman, and in return we were able to choose our library books before anyone else. My days were filled with reading 'Swallows and Amazons' and 'The Far Distant Oxus', and lots of homework!
'The grand piano played by Miss K Wood was beautiful, and inspired me to a life of teaching music. We had lessons in interesting subjects like 'eurythmics' where we danced around and were divided into 'squeakers' and 'grunters' according to the music played. This aside, my time at school and learning about music gave me the ability to enjoy and identify any composer, and lessons in harmony helped my teaching. I still enjoy attending the wonderful spectrum of concerts at Perse Girls today.
'I returned to Cambridge in 1989 and was voted onto the OPG committee, and I have also been the Group Secretary of Group 23 since leaving school. My mother was a great committee member and so I felt I could help with reunions and organising. I have always felt I have been put on this earth to help.' In addition to being an active OPG member, Geraldine has been teaching in primary schools for over 60 years.
Geraldine in her later years. worked supporting seven children with special needs at a school in Cambridge with English and Maths, and also taught children of visiting scholars at the school. As Chairman of 'Cambridge Pensioners Voice' Geraldine coordinated a full programme of speakers and events for the group, chairs meetings and takes minutes: all without the need for email.
Geraldine's funeral is taking place at the Unitarian Church on Tuesday 5 Setptember 2017, 2.30pm.