Published on 17/08/23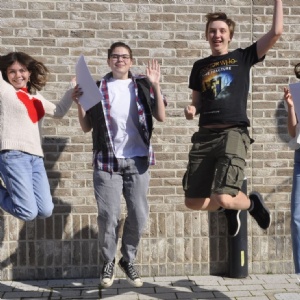 Students at Stephen Perse Foundation are celebrating an excellent set of A Level results, 58% of grades were A* - A (or IB equivalent).
Students, staff and parents are celebrating the impressive performance of this year's A Level cohort, which reflects the dedication and commitment of students, parents and teachers.
With these results many of the students have secured places at prestigious universities, including world-leading Russell Group institutions University of Cambridge, University of Oxford, Durham University, University of Edinburgh and Imperial College London.
77% of grades awarded at A Level (or IB equivalent) were at A*-B with 38% of students attaining at least three subjects at A*-A at A Level (or IB equivalent). Students across the cohort excelled in a wide range of subjects, demonstrating their versatility and passion for learning.
The cohort's future fields of study are incredibly diverse, with students holding offers to study Cyber Security, Aerospace Engineering, Optometry, Neuroscience and English Literature among many others. Aspiring medical students also obtained places at the University of Sheffield, UCL and the University of Nottingham, with one student securing a place to study Veterinary Medicine at The University of Edinburgh.
Principal Richard Girvan said: "The achievements of the students this A Level Results Day are a testament to their hard work, determination, and the unwavering support of their teachers and families. As they embark on their university journeys and pursue their chosen careers, they carry with them the valuable lessons and memories from their time at Stephen Perse".
In addition, Senior School Head, Stephen Ward, expressed immense pride in the accomplishments of the students, praising not only their academic ability, but also their dedication and determination to succeed. Stephen commented: "We are especially pleased with these excellent results as they have been achieved against a backdrop of more stringent grading nationally and the residual effects of the tumult of the past few years."
"We have complete confidence that after they leave us these young people will go on to excel in their chosen fields and make a positive impact on the world. We look forward to news of their future successes and to many of them returning to inspire those coming up through the school behind them to follow in their footsteps."
Notable achievements include Poppy S who is going on to study Classical Archaeology and Ancient History at the University of Cambridge and Georgia B who will be studying English and French at the University of Oxford.
Year 13 student Catherine P has secured a Level 6 Degree Apprenticeship with Mott MacDonald in Civil Engineering, during which they will receive a full-time salary, payment of university fees, a BSc Hons degree and guaranteed placement with the company upon completion. Stephen Perse Foundation partners with the AIM Group to prepare students for the interview process for similar positions, and this is the second year a student has secured the highly-competitive degree apprenticeship with the global engineering consultancy.
Member of the Student President Team and IB student, Katy W has secured a place to study Human Sciences at the University of Cambridge. Katy comments: "At Stephen Perse, the teachers are passionate about what they are teaching. This is clear through the enrichment sessions, the variety of clubs on offer, but also through the way they share their passions with students such as through book and podcast recommendations which are dropped into everyday conversations to help us expand our understanding of different topics. I found this created such a motivating learning environment and it became clear that what we were reading in our textbooks has real-world implications."