Published on 19/07/23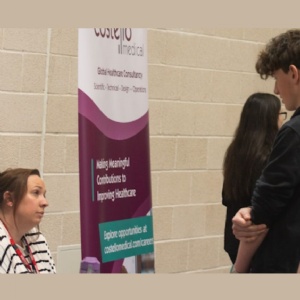 Allison Curry, Head of Guidance, tells us all about the Degree Apprenticeship Workshop.
Degree apprenticeships continue to rise in popularity with an increasing number of top universities now offering them alongside strong support from UCAS. Whilst representatives were on hand at our recent Careers and Guidance event to discuss the advantages of these programmes we were delighted to have Natalie Phillips from AIM Apprenticeships to run a bespoke workshop for seven of our Year 12 and Year 13 students.
Starting with key information on how to locate apprenticeships, the students navigated a number of websites with both local and national information, alongside government and university guidance, tips and instructions. Key details to incorporate into searches were discussed including pay, contact hours, assessment methods, and university and employer expectations.
The focus of the workshop then shifted to interview practice. Very different from standard university interviews, the degree apprenticeship applications normally compose a number of interviews, initially online. These are predominantly based on psychometric testing in the first instance. Initially there were no struggles with verbal reasoning and inductive reasoning but the error checking exercise was a little more challenging. Finally the personality test showed how reserved and polite our students were. We look forward to continued success as we support these applications alongside all our post 18 educational pathways.