Published on 06/07/23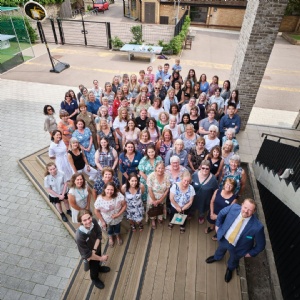 On Saturday 17 June, it was a great pleasure for staff and students to welcome Stephen Perse Guild members back to the Senior School and Sixth Form.
Founded in 1903 as the Old Persean Guild, the Guild updated its name to reflect the contemporary school in 2009 and we are delighted to be celebrating its 120th anniversary this year.
Alumni representing every decade from the 1940s to the 2020s enjoyed lunch, tea and tours, including those celebrating 60, 50, 40, 30 and 20 years since leaving sixth form. Guests spent time catching up with old friends, making new ones and seeing which areas of school remained as they nostalgically remembered and what was new and different. Many visitors particularly enjoyed the music on arrival and the Summer Art Exhibition on display in the Visual Arts Centre, showcasing the work of GCSE and A level art students who have taken their exams this term.
Two Dame Bradbury's students, Leo and Sam, visiting with their alumna mother, Sarah (2002), joined Jean (1949) and Veronica (1951) as Jean cut the celebration cake.
Principal, Richard Girvan, updated Guild members on school life and highlighted our commitment to increasing access to a Stephen Perse education, saying: "At Stephen Perse, we continue to live by the enduring values that Perse and Bradbury bequeathed us, but we are also adaptable and able to discern those elements of an outstanding education that should endure from those which should evolve, so that our students are best served in the education they receive. Of course, to really live the values of Perse and Bradbury, all this must be accessible to academically able young people, regardless of their family circumstances. Stephen Perse schools have always included a significant number of bursary and scholarship places, but the recent Covid-19 pandemic highlighted how access to outstanding education is still needed now more than ever and is not universally available. You may have seen in school communications that we have already started to further develop this access. This academic year, we have provided financial assistance to 138 students across our schools and in September, as the new academic year begins, this will rise to around 280 bursaries and scholarships. We have committed ourselves to further increasing our bursaries and scholarships."
In closing and following the Guild tradition of including past and present staff alongside alumni, Richard paid tribute to Tracy Handford. He thanked and congratulated Tracy on all that she has achieved as Vice-Principal of the Stephen Perse Foundation and as Head of Dame Bradbury's before that. Guild members wished Tracy all the best in her new role as Head of Peponi House in Kenya and hope to see her again whenever she is back in the UK.