Published on 04/07/23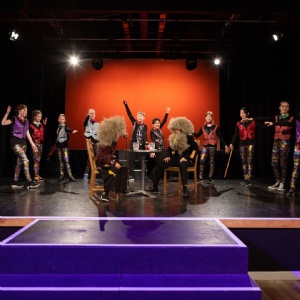 A large cast of talented and enthusiastic Year 7 students took part in our Year 7 Drama and Theatre production which celebrated two of Roald Dahl's much loved children's stories - 'The Twits' and 'The Witches', both adapted for the stage by David Wood.
Featuring original songs composed by Year 12 Music scholar Ryan, colourful circus routines choreographed by members of the cast and wonderful costumes created with the help of Year 9 Backstage students, the production kept audience members fully entertained from start to finish. Both plays featured larger-than-life characters and slapstick comedy routines which our young cast thoroughly enjoyed creating during rehearsals and bringing to life in performance; puppets also featured in both, adding to the overall visual impact of the production.
Many hours of planning, preparation, creating and rehearsing go into a production of this complexity and as always, a large number of people were involved behind the scenes. We are extremely grateful to the staff and student teams who helped to assemble and make all of the puppets, props and costumes and to the backstage and tech crews who assisted with the running of the performances.