Published on 02/11/22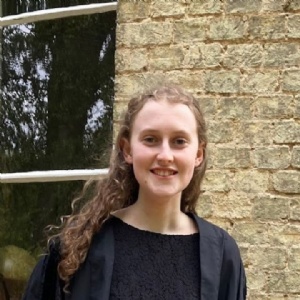 Back in August of 2021 I picked up my results from school and then headed down the road to buy my Fitzwilliam College gown.
I was going to be attending the University of Cambridge to study Classics and I was feeling excited and terrified. Would I make any friends? Did I actually know enough Latin and Greek to cope? Had it all been a computer error and I would turn up to discover they didn't have me on the list?
Well, I have now completed my first year and I can honestly say it's been the best year of my life so far. Cambridge's collegiate system meant that I made friends easily with a group of 7 other first years living on the same corridor as me. We each have our own bedroom with en-suite shower, but share a block of toilets and a kitchen where we can chat, work and cook together. There is the option either to cook for ourselves or go over to the dining hall for meals that are ready cooked and sold at reasonable prices. Weekend brunches are particularly noteworthy! We also have the bar which is a cafe during the day and serves cakes, pizzas, coffee, smoothies etc – whatever you need to sustain you through an essay crisis! There is also a 24/7 library with really good places to study, music rooms, a chapel, laundry room and completely free gym. All colleges claim to be friendly, but Fitzwilliam surpasses itself – we even had a 'stroke a guinea pig' day in the run up to exams! The porters will help you with anything from a lost key to a broken bike and the student-run JCR does everything it can to make student life fun and easy: from keeping room rents low to running events for freshers to meet each other. This year I was elected Vice President of the JCR and one of my jobs is organising the college family scheme – where each first year is paired up with a 'parent' in the year above them doing their subject as well as another pair so that they have a couple of mentors and friendly faces to make the first few weeks less scary. As part of my role, I also get to attend college meetings with the staff and fellows where decisions are made about finances, buildings etc – it has been really interesting to see how this side of the college works and this has provided me with valuable experience for when I enter the world of work.
The academic side of things has also been surprisingly fine. I think everyone at Cambridge suffers from a hint of imposter syndrome and I was honestly worried that I would be the most stupid person to have ever sat in one of Mary Beard's lectures. The Classics department at SPF prepared me really well for being organised to be on top of vocab and grammar. I have weekly vocab tests and one-to- one supervisions to trouble shoot any individual areas I'd like help with. In first year, for students who already have A level Latin and Greek, the majority of the course is pretty much set with Latin and Greek language, set texts and literature papers. There are then four other modules (philosophy, history, linguistics and philology and art and archaeology) from which you choose the two that you are most interested in after the first term. I have around 8-10 lectures per week as well as language classes and supervisions and then one supervision every week where I pre-write and submit an essay. There are 3 of us in most of my supervisions – enough to have discussions and share ideas, but a small enough group for even the quieter members to get heard. I share with students from other colleges and have had supervisions at several colleges including Magdalene and Kings where the views were amazing! There is also the voluntary option to study prose composition, which I enjoyed at A level and is a great way to improve your understanding of how a language works. If you do well at this in the summer exams it can increase your overall grade; if it's a disaster, they ignore it! In some ways, the essay writing is very different to A level – quite often the title is about something we haven't covered at all in lectures and so I am expected to use the suggested reading to basically learn about the topic from scratch independently. However, I found that once I had done some of the reading I was able to use my pre-existing knowledge to form an opinion about the subject and the structure of writing the essays is extremely similar to what I learnt at Stephen Perse. I found that often the supervisors like when you approach the question in a unique way that shows you have really thought about it and applied it to your own individual areas of interest and knowledge, and the essay questions are usually quite vague because of this, so I quickly learnt not to worry too much about not being able to regurgitate out a textbook answer about the topic. Most essays are about 2000 words long and I can now write one in about 3-4 days' work (although it took me a bit longer at the beginning!), leaving me just enough time in the week for vocab, grammar, translations, composition etc and of course having some fun as well. I would say it's busy but doable and I've really enjoyed being able to choose my own modules at the same time as having the strong foundation of language and literature which everyone does.
Of course, university isn't all about essays and exams and the rumours are true that Cambridge students like to work hard and play harder! I decided back in the autumn that I would give rowing a go having never tried it before. After a term of learning the basics, I ended up as captain of the Third Women's boat, and then made my way up to stroke of the Second Women's boat in time for Bumps! Having something that gets me out of bed and provides me with fresh air, exercise and the chance to socialise has been great for my mental health and I've made friends with so many people from all years that I would never have met otherwise. We also get to travel for races to places like Bedford and even Henley which has been super exciting. Aside from sports, there are lots of other amazing things to do at Cambridge. Formal halls are a great chance to dress up with your friends and celebrate with 3 courses of delicious food for about £12. We even have special themed ones – such as Valentine's Day and Halloween where people wore fancy dress.
I've also had the opportunity to attend two balls – think ball gowns and DJs but then add dodgems, ball pits and roller discos! Cambridge itself is a great place to live as there are always things going on – festivals, concerts, plays to watch (I even went to see 'Medea the Musical' before its official opening in Edinburgh), punting and picnics at Grantchester and of course late night trips for an ice cream at Jack's Gelato. Cambridge is a beautiful city and even though I went to school there for 11 years, I have found that since living there as a student I have discovered lots of new parts and seen the familiar through new eyes.
So now I have finished my first year which is ridiculous as it feels as if I've only just arrived! I feel confident that I can cope with the work, I have a great set of friends and I will definitely be carrying on with rowing next year though I may pop along to the society fair to see if anything new also takes my fancy. I will be returning to Fitz a little early in order to prepare for welcoming the new freshers, and as they move into their college rooms I will be moving my stuff in to a house nearby that I am sharing with my 5 friends. I can't believe that this time last year we didn't know each other and were sitting at our homes around the country wondering whether we would make the grades to meet our offers. My first year at university has been everything I dreamed of and more – if you are considering where to apply for university, then I can't recommend Cambridge enough, especially for Classics!
Elizabeth Eaton-Banks Stephen Perse Foundation 2010-21