Published on 06/10/22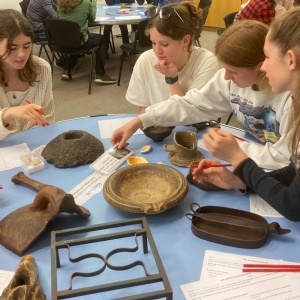 Verulamium Trip by Year 10 student Ilaria.
We met at 8:30am in the dining hall. Here we took the register and discussed the details of our trip. We then set off for our coach. As we drove on, the air filled with excitement and anticipation. This was then furthered by an inspiring talk from Mr Darnton. He spoke about the history of Verulamium (now the town we call St Albans), how it was already very 'Roman' before the arrival of the Romans, and particularly about its relevance to our study of Boudica in Chapter 12 of de Romanis.
We then arrived at the site of Verulamium and put away our bags, before being whisked away to a secret room filled with artefacts. Our task was to figure out what these objects were for and who would have used them. We were most excited by the sponge on a stick…….but don't worry, this was a replica.
Next, we were given the opportunity to browse the museum. While the mosaics were very impressive, I was most fascinated by the intricate jewellery on display. We finished by watching a short video about Verulamium's construction through the ages.
Afterwards, we visited the gift shop where several of us bought matching rings. We then visited an excavated Roman theatre just a short walk away, unique in that it is the only Roman theatre (not amphitheatre) in Britain. It was good to see that the theatre was in fact still in use; we could see actors preparing to perform The Tempest.
We were then very much ready for lunch. Having feasted, we were able to visit the large bath house mosaic closeby. This was followed by some free time in which we played outside and visited the nearby cafe where people were able to buy ice cream or other sweet treats.
We boarded the coach for the journey home after a great day. I thoroughly enjoyed our trip to Verulamium and definitely learned a lot!