Published on 21/07/22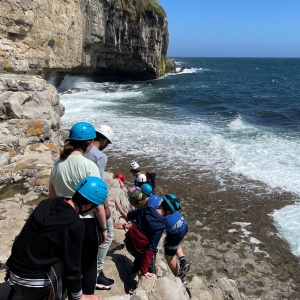 Our Year 8's travelled to Bournemouth during the first week of last half term, and took part in an Outdoor Education week, organised by Land & Wave
The students made a splash in the water park, scaled new heights on the climbing activity and tested their balance during Paddle Sports. The adventures also included bushcraft, team games, water slide, evening campfires and also crab fishing with a fish and chip supper, at the seaside.
All students rose to the challenges, stepped outside of their comfort zones, and thoroughly enjoyed the experience of being on a school trip. It was fantastic to see our students engaging with each other, solving problems and dealing with camp life as it unfolded. The loss of mobile technology did not at any stage hamper the students, in fact some reported having a sore throat due to talking so much!
The Year 8 tutors have reported that the students are still talking about moments from the experience, this is fantastic as it means that the students have together created some lifelong memories, which I am sure will stay with them going forward.