Published on 06/04/22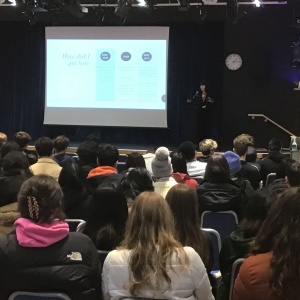 Ms Sarah Coates is currently a Real Estate Partner for Penningtons Manches Cooper (PMC) having previously worked as a partner with Thomson Webb and Corfield and Everheds.
PMC is a leading UK and international law firm specialising in a variety of sectors that includes private wealth, shipping, technology and property. Their lawyers are also recognised for expertise in life sciences, education, retail, sports, entertainment and international trade.
Ms Coates spoke on the ethos of PMC and the variety of skills needed to work within an international organisation of this calibre. Having initially studied Law with History; faced challenges of Brexit; COVID; the 2009 credit crunch; whilst marrying and having a family Sarah touched on the deviations that are often necessary in a career route alongside the alternative avenues available.
Sarah believes in challenging preconceptions and the importance of remaining true to personal values. She is currently a trustee for Cambridge Cyrenans (working with the homeless people in Cambridge) and Chair of Cambridgeshire ProHelp. Ms Coates shared how a career and interests such as these can develop alongside one another.