Published on 05/04/22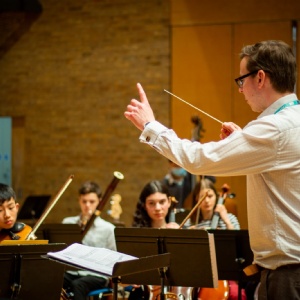 The main highlight of the musical year is the Spring Concert at West Road Concert Hall, and this year's concert, on Monday 14 March, featured more than a hundred student performers.
It is a tradition that members of the Sixth Form have the opportunity to play concerto movements or sing solos with our orchestras, and this year was no exception. The concert began with Anastasia's stylish performance of Mozart's Violin Concerto in G, accompanied by the Chamber Orchestra. Members of the Chamber Orchestra were kept very busy as most of them played in every single piece in the concert, which continued with the combined school choirs singing movements from Vivaldi's Gloria; Tara and Nina were featured in the soprano duet Laudamus Te during this piece. It was pleasing to see the Boys' Choir go from strength to strength; it now includes singers in every year group from Year 8 through to Year 12. The first half concluded with Nathaniel's exciting performance of Saint-Saëns' Cello Concerto in A minor, accompanied by the full Symphony Orchestra.
During the interval, while the audience enjoyed refreshments in the foyer the stage crew were busy re-setting the stage to accommodate over 70 students, made up of the Symphony Orchestra, Big Band, Concert Strings and Jazz Ensemble, who combined to give a blistering performance of Hans Zimmer's score for Gladiator. After Elise's superb performance of Mozart's coloratura aria Alleluia (from Exsultate, Jubilate) with the Chamber Orchestra, the concert culminated in a performance of Moszkowski's Piano Concerto in E, with Sunny as the soloist accompanied by the Symphony Orchestra. This was a dazzling performance of a little-known but stunningly virtuosic romantic piano concerto, and was a truly magnificent climax to a splendid evening - our first West Road concert since 2019. It was very good to be back!