Published on 18/03/21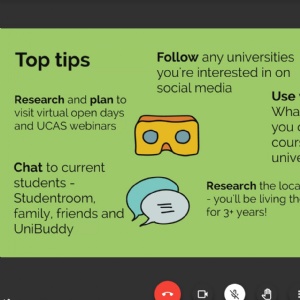 Following in the tradition of the last two years we were delighted to be able to host our Annual Careers and Guidance day on Wednesday 17 March.
Throughout the virtual event our Year 12 students were able to interact with major universities to discuss university admissions, student finance, what makes competitive applications and tips for the transition to university. We were delighted to also promote our support of Degree Apprenticeship programmes, gap years and Art Foundation Programmes.
For the remainder of the day students could visit any number of 50 breakout rooms to interact with a range of eminent alumni and parent volunteers to discuss career paths and the many avenues their degree might take them; a consideration often now considered at interview. From QC in Law, Olympic rowers and army Majors to BBC presenters, venture capitalists, medics and curates the breakout rooms were hives of questions and conversations providing inspiration and information for students to take away and help with their applications.
Whilst virtual events might preclude some activities, our students were still keen to ask questions and the remote nature of the event allowed a much wider range of alumni involvement than previously had been the case. The alumni themselves took delight from the range of questions our inquisitive students asked whilst also reflecting on their own university experiences at Durham, Oxbridge, Imperial and many more. As with many events this last year the success of the day now gives us the challenge of perhaps how we combine this successful virtual experience with physical events of the future.
We'd like to thank our parent volunteers, alumni and university speakers once again for taking part.