Published on 29/10/20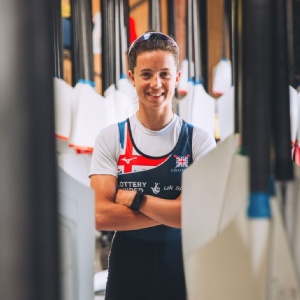 With sports fixtures suspended this term due to Covid-19, the Stephen Perse Sports Department has made a special effort to continue to offer a broad curriculum, focusing ondeveloping skills, fitness and tactical awareness.
To inspire our future sports stars, Alumna Imogen Grant returned to meet students (online rather than in person) to give an inspiring talk to Stephen Perse Foundation sports scholars about her success as a lightweight rower.
Imogen started rowing at Trinity College while studying medicine after leaving Stephen Perse in 2012. Her meteoric success since then is an inspiration to us all. As part of the Cambridge University Women's BC Blue Boat she won two boat races, and set a course record. Among her many triumphs, Imogen competed in the lightweight women's single at the 2018 World Rowing U23 Championships in Poznan, taking a dominant gold by nearly two lengths. In 2019, she won a bronze in the lightweight women's double at the World Rowing Championships in Linz, qualifying the boat for the Olympic Games.

Imogen spoke to the students about balancing her training regime and competing while continuing to study medicine at Cambridge, and how she managed during her third year of study to successfully trial for Team GB. With the Olympics scheduled to start in July 2020, Imogen was granted the option to intermit her studies to enable her to be part of team GB. When the Games were postponed until 2021 due to Covid-19, Imogen explained how she was able to maintain fitness during lockdown and how she managed her training at home for six months.

Imogen told the students how she "loved the clubs that were on offer" at Stephen Perse which allowed her to "explore all different types of sports". It was during Freshers' week at university that she found rowing as a new sport. Everyone at the Stephen Perse Foundation looks forward to cheering Imogen on at the Tokyo Olympics 2021.
Zabeetah, Year 11 said "After Imogen spoke about her sporting career I was left inspired and in awe of her amazing journey. It was really lovely to see someone so successful in their sporting career. From the talk I took away a few valuable lessons: The first being with hard work and a good attitude anything is possible. Imogen also taught me to take opportunities and make the most of them, it's never too late to find what you love and enjoy and be successful at it, work hard and persevere through all the challenges and trials. Going into the new netball season I'm ready to work hard and use lots of Imogen's advice and hopefully get far and improve myself".