Published on 30/03/20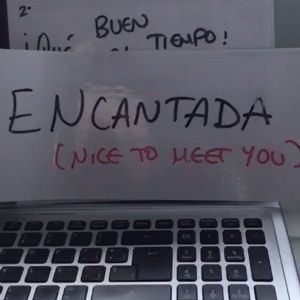 Ana Riquel from our Modern Languages department has shared how she has adapted her Spanish lessons so her class can continue to develop their language skills from home.
So far remote teaching seems to be working well. I have been using Google Jamboard to edit some activities, complete the screen recording and then upload them on to Google Classroom. Also using Classroom, I give pupils access to view activities and then use Google Meet to retrieve feedback from them.
For the Year 10 students, I recorded instructions for listening activities with screen recording and scheduled the answers for the end of the session. As well as this I gave them appointments to connect via Google Meet for a 1-2-1 speaking practice session with me which works very well for error correction and pronunciation.
For all groups, I created a video explaining the new changes and how they will affect their lessons with me and their assessments. For Year 10 I created a video where they can practice their "lift conversation", a chat that takes place at the beginning of the new speaking exam, with the interactive me!
See Ana's lift conversation practise video here (lift bell noises included!):