Published on 04/03/20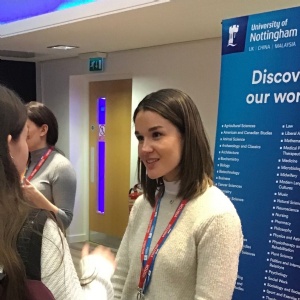 Our annual Guidance and Careers Fair saw Year 10, 11 and sixth form students, along with students from our state school partnership (North Cambridge Academy - NCA) attending morning talks with visiting speakers representing different universities and degree apprenticeships . Universities present included Nottingham, Lancaster, Surrey, Stirling, and UEA.
In the afternoon, the Careers Fair in our Senior School Hall hosted over 40 institutions and employers, for our students to speak in more detail about the application process, specific courses and life in different universities.
We were particularly delighted to welcome alumni to help at the event - Louisa O'Grady (pictured, left SPF 2015), in her 4th year at Nottingham University taking a Masters in Chemistry, and also an alumni ambassador for the university; Anna Moscuzza (left SPF 2018) graduated from Warwick in 2018 after completing a history degree (including a year in Australia). Anna now works for the Foreign & Commonwealth Office (FCO) assisting British nationals who get into difficulty in South Asia; and Abigail Chen (left SPF 2019) and is currently at Warwick University studying PPE (Politics, Philosophy and Economics).
Not only did our students find the event really helpful, we opened the event to local state school pupils in Yr 10 and 11 from North Cambridge Academy to benefit from the event.