Published on 12/02/20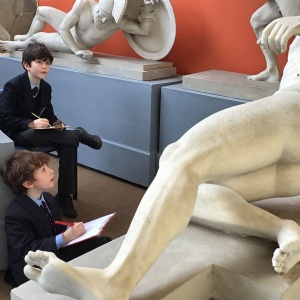 Year 3 visited two museums to broaden our knowledge of Ancient Greek life and mythology.
At the University Cast Museum we were captivated by the myth of Pelops and Hippodamia, retold against the backdrop of their statues from the temple of Zeus at Olympia.
Exploring the Fitzwilliam Museum, we looked closely at the objects left behind to discover more about everyday life and the influence of the gods and heroes. We were astonished to learn that - from sieving the clay to finally putting it up for sale, it took eleven different people to produce one Greek vase!
'I liked drawing the statues,' said Iona. 'I saw that the goddess Athena had short, curly hair like me!'
The children were so enthusiastic about everything they saw that they wanted to stay longer. 'I'd like to show my family these museums,' said Tom.
'I was very excited and I loved both these museums,' said Florence.