Published on 11/11/19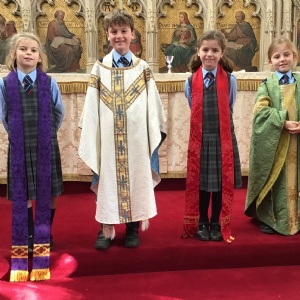 Awe and wonder for the magnificence of the church building were much in evidence when Year 3 enjoyed an informative visit to St Mary's Church as part of their religious studies.
They met the Reverend Rachel, who shared her passion for her role at the heart of the Church community and engaged the children in acting out some enthusiastic baptisms and weddings. The children also learned about the colours of the Church year, and had a chance to explore the Church to spot different features of the building and to see how many Christian symbols they could find. The trip seemed to interest the class as they asked "Can we come for longer next time?".