Myrtle Aldren Wright (at school 1910-23)
In 2015, our alumni office received an email from the University of Tasmania requesting information on one of our alumni, Myrtle Aldren Wright – a peace activist and writer who was at school during WW1. Rod Radford, a retired school principal, is working on an MA in History, analysing the Norwegian non-violent resistance, using Myrtle Aldren Wright's subsequent work.
Myrtle attended what was then The Perse High School for Girls from May 1910 to March 1923, leaving in U6 to go up to Newnham College, where she read Natural Sciences just after WW1. She was a notable peace activist and was intimately involved in Norway in the non-violent resistance campaign against the German Occupation. She arrived in Oslo two days before the German invasion in 1940 and was trapped there until her escape in 1944. She was awarded the King Haakon Cross in 1947.
Myrtle with the 1922 Netball team, back row, middle.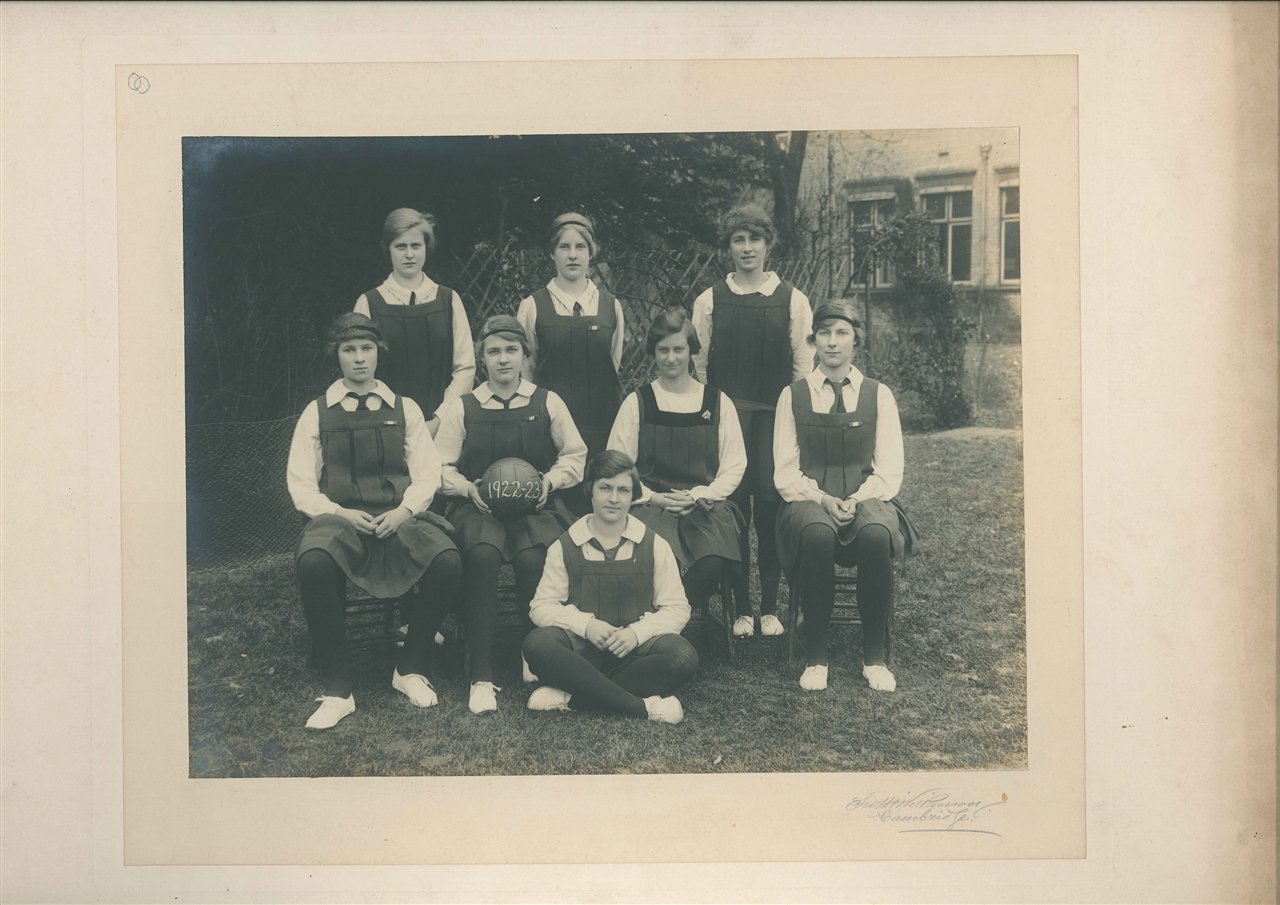 Myrtle kept a clandestine diary which she later had published in 1974 as Norwegian Diary 1940-1945, which is her most notable work, followed by Nothing can hinder a star shining published around 1946. Immediately after the war she translated Resistance in Norway, written by Diderich Lund, husband of Sigrid. Myrtle lived with them 1940-44. We are looking to obtain copies for our archives. We have a book she wrote in Norwegian on Ghandi, which can be viewed on request.
The school registration book; Myrtle's U6 form 1922, middle row, second from left.
The diary Myrtle kept initially covered the period mid 1942 to February 1944 - from the time of the arrest of Berndt Lund (the son of Sigrid and Diderich Lund with whom Myrtle was staying) until Myrtle and Sigrid's escape to Sweden in 1944. The diary was kept hidden in the nesting box of the Lund's chickens and then later between the pages of some Tibetan manuscripts in the Oslo University Library, where Diderich's sister Hanne was a librarian. When Myrtle published the diary in 1974 she added some narrative to cover the 1940-1942 period and the post escape phase. (The part played by Sigrid in the escape of the Jewish orphans from Oslo in 1942 is well documented and worth following up). Myrtle was active in the rescue and escape of Norwegian Jews (proportionally Norway had more Jews killed - almost half- than any other European country save Poland) as well as a part in the teachers' non-violent resistance to Nazism.
After her escape to Sweden, she returned to England in October 1944 and spoke to numerous groups and gave lectures on her experiences. She also wrote an article for The Spectator published on 24 November 1944.
The Radley Trust has some biographical details about Myrtle and her husband, including Myrtle's quip about her Norwegian sojourn, 'I came for tea … and stayed for four years!'.
Dr Gill Sutherland, our Chair of Governors and Fellow of Newnham College, said 'I remember Myrtle Radley, as she then was, as she contributed a great deal of work to the revision of the College Register, published in 1979. She was an immensely dignified and highly intelligent lady, still an active Quaker. I remember that for our own interest she and I did some exploration of the extent to which Quaker and Unitarian families became involved in and supported the early education of girls and women. Both were prominent - but the Unitarians had an involvement out of all proportion to their numbers.' We have now shared our information with the Newnham College archivist.
Whilst at school, Myrtle played on the 1922 netball team, appropriately playing position of Defence. The Persean Spring 1923 netball report notes 'The report for the Spring Term is unfortunately very brief, as we were unable to play much due to the bad weather. However Miss Reed allowed us to have many practices in the gym….I think we should congratulate ourselves that although we had few practices, we won the two matches we were able to play'.
Among other archive items relating to Myrtle, we uncovered her original record card, school registers from her time here (showing an unblemished attendance record), and photos from her U6 class and the 1922 netball team.
Myrtle Aldren Wright, daughter of John Aldren Wright, a Cambridge doctor, and Rose Lucille nee Tear, formerly a nursing sister, was born in Cambridge 1903. She married Philip Radley in 1951. Philip was a WW1 conscientious objector who was imprisoned 1917-19. She died in 1991.
To read more about this period in our school history, there is an archive piece on Margaret Saunders (nee Daisy Barton), who was at school until 1924 and transcribed extensive school memories, the article can be found on P12-13 of ourSPG Alumni newsletter 2011.