One of our parents, Michael Mumisa, recently unearthed a fascinating story on alumna Bolanle Fajembola (at school 1952-55) who is famously known as Professor Bolanle Awe.
Bolanle joined the Stephen Perse Foundation in 1952 before going on to study history at St Andrews (BA and MA) and Oxford (D.Phil). She went on to champion girls and women's education in Africa at a time when this was not popular. She was also instrumental in the establishment of the Nigerian government's current Ministry of Women's Affairs. She also led the development and reform of higher education in Nigeria.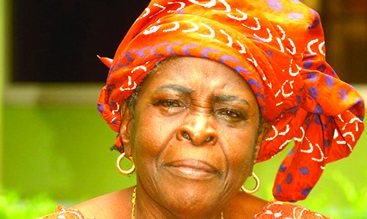 According to the Oxford Dictionary of African Biography edited by Harvard's Professor Henry Louis Gates and published by Oxford University Press (2012, Vol.4, p.300) where Bolanle Awe's detailed biography can be found, her emergence as an influential historian began at "the Perse School for Girls, she had history teachers who fired her imagination to pursue historical studies."
Professor Bolanle Awe wrote fondly about her experience at the school and how, as the only African pupil, she was made to feel at home by everyone at the school. This is an important piece of information because in the 1950s Britain was still a very hostile place towards those deemed to be "different". From the testimony of one of its eminent students (Bolanle Awe), the Stephen Perse Foundation led the way in the practice of racial inclusion long before terms such as "diversity" became politically fashionable and enshrined in law.
She wrote that:
"I met Jenny in 1952 at the Perse School for Girls, Cambridge where I studied for my Advance Level Examination in preparation for admission to a British University. I was the only African girl in that school which took it as a challenge that this young African girl should feel welcome. The responsibility for that assignment fell on my classmates and of them all, Jenny was foremost in making it possible for me to settle down like any other student. Her family also extended to me the same warmth of affection. Her father was a farmer and I was always at home in their hearty, boisterous, open and unpretentious household. Indeed, I became a big sister to late Deborah, Jenny's younger sister."
The Jenny she's referring to is the late Jenny Knauss who went on to become leader of the Chicago Women's Liberation Union and a campaigner for women's health and education. Jenny Knauss later wrote that it was Bolanle Awe who instilled in her a passion for African history. After studying History at Oxford, she moved to West Africa where she was keen to contribute to the decolonisation and liberation process in Nigeria. While in Nigeria, and still a young woman, she lived with Bolanle Awe's parents.
Jenny Knauss' papers, including photographs, documenting her life and works, as well as the impact that her encounter with Bolanle Awe at the Perse School for Girls had on her future work are now housed at the North Western University Library. They cover the period between 1950 and 2005. Theirs is a remarkable, fascinating and inspiring story of friendship, sisterhood and a common struggle for human rights and justice.
Michael Mumisa also provided the following links with further information:
Papers on Jenny Knauss and Bolanle Awe's first meeting at the Perse School for Girls, under the link entitled: Oxford & Nigeria on this page.
Bolanle Awe: A quintessential teacher, historian (Newswatch Times) here.
Prof. Bolanle Awe's academic profile.
Prof. Bonale Awe's detailed biography is available in the Oxford Dictionary of African Biography, Vol.4
Guide to the Jenny Knauss Papers at the North Western University Library.
Other alumni at school at this time, have added to our story with their memories.
Alumna Hilary Rose (nee Griffiths) recalls "Catharine Russell and I were friends with Bolanle probably when we were in the U5 and she was in L6. Catharine's father worked in Nigeria, and Bolanle spent time with the family. I often had tea with them. Catharine and I did our Queen's Guide badges together. My family had a sailing boat and for part of the Guide test we took the boat through Waterbeach lock (where we lost a rowlock,and had to improvise one). Bolanle came with us. We went quite a long way, past Upware and camped in an orchard. We had to follow some sealed orders before returning to Clayhythe the next day."
Helen Parry (nee House) recalls "Bolanle was in my form at school and I knew her quite well. I was in the 6th form from 1952-55: I think that Bolanle stayed in the Upper 6th for two years, as I did, and left in 1955. I came back for the 1955 Speech Day, but was of course, as an old girl, in my own clothes, as she would have been.
I think she won a place at Cambridge, and I lost touch with her. Some years later, my husband Eldryd and I were working in Nigeria and ran into her again. I think this would have been between 1960 and '63, though we were in Nigeria again throughout the '70s. I remember that she had an influential job (the Ministry of Women's affairs perhaps rings a bell). She was from the SW of Nigeria, a member of an elite Yoruba family: we were told, when she arrived at the Perse, that she was a Nigerian princess.
When she was at the Stephen Perse, she was staying with a family called Russell [as mentioned by Hilary Rose]. They had worked in Nigeria for some years and had got to know her family, and offered her hospitality so that she could come to the Perse for the 6th form years."