Published on 28/09/17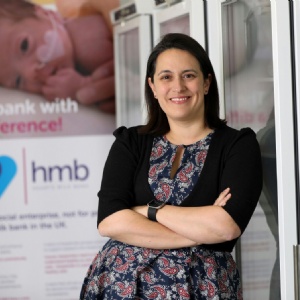 Alumna Natalie Shenker (left 1996) is a gifted medic and innovative researcher, who set up Hearts Milk Bank, a charity supplying donated breast milk, while also researching the health impacts of breastfeeding on mothers. Natalie and her team are fundraising for a Milk Mobile to transport frozen milk to hospitals over long distances, and for equipment so her team can start recruiting milk samples into the research biobank from over 20,000 women across the country.
Natalie was on her way to being a paediatric surgeon when she was struck down by severe illness at the age of 30. As she could no longer operate, she started a Masters in her first passion (developmental biology) which led to a PhD in breast cancer risk. She published a wealth of original research, had two babies and founded a thriving scientific editing business, before submitting a thesis that led to a potential job at Cambridge University. However, Natalie rejected this role in order to set up the first social enterprise human milk bank in the UK, aiming to solve the twin issues of a lack of access by the NHS to donor milk, as well as a lack of research into the health impacts of breastfeeding on mothers. Screened donated milk protects babies from life-threatening infections, and can support a mother to establish her own milk supply. Breastfeeding can protect mothers from a range of diseases, including breast, ovarian and womb cancer as well as heart disease, obesity, multiple sclerosis and endometriosis, but little is known about how this happens.
In just a year, she has established the Hearts Milk Bank, raised start-up funding and started to supply donor milk to neonatal units across London and the east of England.
With her group at Imperial College, Natalie has gained ethics approval to establish a biobank of breastmilk samples that aims to create better screening tools to identify women at very high risk of developing breast cancer in the future. The breastmilk biobank, the first in the UK, will also support the work of numerous other research groups worldwide.
Natalie is now helping both mothers and babies enjoy better health through preventative medicine, supporting breastfeeding, saving money for the NHS, and most importantly saving lives. She also acts as science advisor to the Tiny Humans project (www.human-milk.com), an education project that describes the science of human milk. In October 2016, Natalie was nominated by Imperial College for a WISE Campaign Hero Award. Read more about her award nomination here, and the Hearts Milk Bank has won numerous business awards.
The Hearts Milk Bank team is currently fundraising for much needed equipment in the laboratory, as well as a Milk Mobile, a refrigerated vehicle that could transport frozen milk to hospitals safely over long distances. Natalie is also seeking funding for equipment so that her team can start recruiting milk samples into the research biobank from over 20,000 women across the country.
You can read more about the work of the Hearts Milk Bank here, and if you feel able to support through donations, you can find out more and donate here.