Published on 24/01/23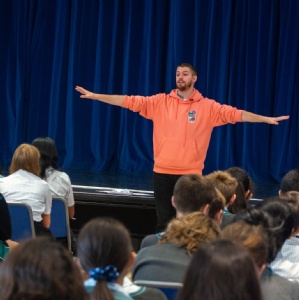 To celebrate National Poetry Day, we were lucky enough to host poet-extraordinaire Lewis Buxton who visited the Senior School, and kept our students in Year 7 and Year 8 busy and entertained throughout the day with his magical gift of poetry!
Students felt that Lewis' poems 'were thoughtful' in their composition and loved the way in which he 'engaged with the audience and caught their attention' from one poem to the next.
Throughout his entire performance in the main hall, in which Lewis masterfully kept the full attention of his audience captive in the palm of his hand, Lewis delivered a range of poems to students across Year 7 and Year 8. From reciting a series of sonnets articulating the distant memories of childhood youth and love, to a series of melodic free verse poems full of wit and energy, Lewis peppered his poetry with thoughtful commentary on the myriad of issues that affect our students throughout their daily school lives.
Followed by a short break in the Senior School Library, where Lewis was inundated with questions by students curious about his poems, Lewis then taught a series of workshops to all students in Year 8 where they learnt the techniques of crafting poems, in addition to learning about the importance of characterisation and style in poetry.
The Year 8s responded enthusiastically to the workshop that Lewis had specially curated for them with many of our students who attended the workshops commenting that Lewis had confidently 'taught me how to express myself' through different ways in writing poetry, and how positive they felt about National Poetry Day. A testimonial from one student who expressed that: "At first, I thought it was going to be a bit boring, but Lewis completely changed my view on poetry… and he was so funny, and made poetry amazing…" clearly articulated the enormity of the positive impact that Lewis' poetry had on our students!
It has been a long time since we have hosted a library event in the Senior School so inviting Lewis Buxton to help us celebrate National Poetry Day felt very special and unique and was, for us, the perfect occasion to kick start a new era in the role and importance of libraries here at the Senior School.